The project is aimed at strengthening a competitive social economy in EU through the spread of new cooperatives, developing innovative tools and methodologies to assist trainers in the promotion of cooperative model.
Welcome to COPE – an ERASMUS + project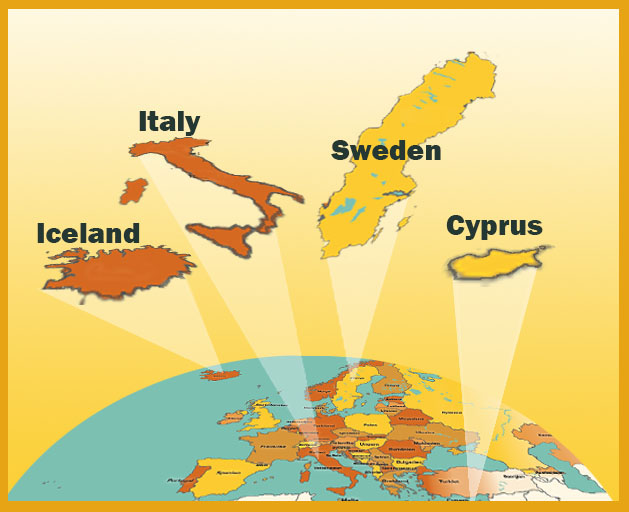 We are 7 project partners from 4 European countries Sweden, Italy, Iceland and Cyprus, including a research center and a University, a transnational network and cooperative association/ federation that are involved in the project.
The general objective of the project is to contribute to strengthening a competitive social economy in Europe through the spread of new cooperatives
Social economy operates a very broad number of commercial activities, provides a wide range of products and services across the European market and generate millions of jobs.
Social enterprises and cooperatives are also an engine for social innovation and they are promoters of sustainable development, democratic structure and equitable distribution of economic results.
Despite the great weight of this social economy there is still a great need in increasing the number of cooperatives and promote social businesses for a more sustainable development of the society.
Besides, the diffusion of cooperatives' model and the social economies are in line with the EU commitment on the implementing of Sustainable Development Goals since the proposed models can contribute to the achievement of the SDGs through a more sustainable development.
The promotion of the cooperative model can help aspiring social entrepreneurs prepare new start-up, developing the local economy and contributing to the reduction of unemployment.
Specific objectives of the project will aim at:
1. Strengthening the skills of entrepreneurship trainers promoting cooperative business
2. Exchanging experiences on social entrepreneurship education among trainers across Europe
3. Developing innovative tools and methodologies to assist trainers in their promotion of the cooperative model among adults
The target group directly involved in the project are:
– trainers
– researchers
The target group indirectly involved in the activities are:
– adults
– Category associations
– Business actors
– decision makers in the field of local development
RESULTS
The expected results of the project COPE are the increased knowledge on Cooperative education and the enforced capability in trainers on promoting and teaching cooperative education. Besides, the project will improve knowledge on other systems to support cooperative business in other European countries and exchange of good practices.